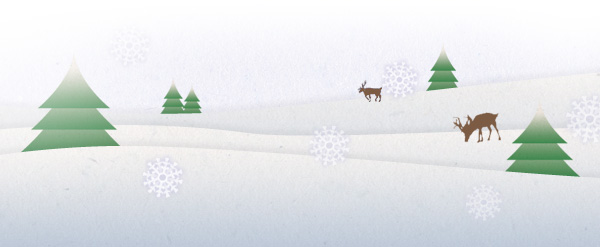 Tips to Relax during the Holiday's; December Newsletter 2012
Seasonal Guidance and Info
It's that time of year again. The Holiday Season! Joy to the world…Ho ho ho…'Tis the season…In case you didn't notice the holiday's are in full swing.
This is a fun time of year where we are encouraged to give and to share. However, with societal expectations, family obligations, and the desire to "do good" comes added pressure. And if you're like us, you were already busy before the Holidays started. This is the time of year that a 10 minute trip to the grocery store ends up taking you 45 minutes because the person in front of you couldn't figure out how to scan their extra large thingamabob. Prepare yourself to sit in traffic and wait in line. Don't be surprised if communications go awry. You may wonder if your partner is speaking the same language as you?! Hang in there. This too shall pass.
According to Chinese Medicine December is a winter Water month. The Water element is expressed through the Kidneys. It's temperature is cold and it's movement is slow.
The Tao Teh Ching guides us to be like water:
"Water always takes the lowest position.
Obstacles do not hinder it.
It accommodates whatever is in its path and continues to flow forward.
It never loses its direction.
By remaining low it follows its true nature and its fundamental direction is not influenced by superficial obstructions.
Water is always ocean-bound, seeking to reunite with the whole.
To follow the way of water is to return to one's spiritual essence."
Give the gift of health; Morning Crane Gift Cards available! Holiday Special: 5 group classes for $50 (save $75)
TIPS to Relax during the Holidays:
Exercise: A few minutes of exercise each day will benefit your physical and mental health.
Meditate: Take a Qigong or Yoga class, or a class that focuses on breath and stretching techniques.
Eat a well balanced diet:  Nutrition plays a big roll in reducing stress. Decrease the amount of fat and sugar you eat. At holiday events enjoy the people rather than the food.
Reduce caffeine intake: Caffeine affects the adrenal glands, which increases the stress response in the body.
Rest: Get 7-10 hours of sleep each night.
Get a massage: A massage can be beneficial for the mind & body.
Have a positive attitude! The glass is either half full or empty; you decide. When you feel irritated at your neighbor write a list of five things you are grateful for.
Chris, Parisa, Lulu Shelton & Santa Claus